Stepping Stones Marketing is the sole distributor / wholesaler of eeBoo toys in the UK and Ireland
eeBoo is a boutique toy manufacturer that specialises in beautiful  educational games, craft sets and gifts. Stepping Stones Marketing have distributed eeBoo in the UK and Ireland since 2010.
eeBoo creates unique toys and gifts that are 100% original (no licenses). All artwork is commissioned from well-known and well-loved children's book illustrators. Many of eeBoo games and activities are based on old-fashioned formats which eeBoo re-invents with cheerful artwork and contemporary design.
Literacy, story telling, drawing, imaginative play and basic math are among the skills that eeBoo products encourage. eeBoo products have won major toy awards across the globe.
The eeBoo product range includes: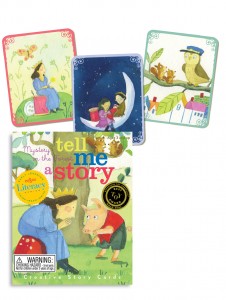 Educational games – Make a Pie fraction game, Tell the Time and the incredibly popular Tell Me a Story (see image on right) and Magnetic Storyboards

Craft sets – Paper Flowers, Pipe Cleaners, Play Papers, Scissors and Waste Not Kits

Sketchbooks and pencil sets

Games – including spinner and board games Tea Party, Cupcake Game, Slips and Ladders and Gathering the Garden

Matching games such as the best selling – I Never Forget a face

Magnetic games – see image above

Puzzles
To view the full range of products please view the catalogue in the left hand column. More information can be found at www.eeboo.com