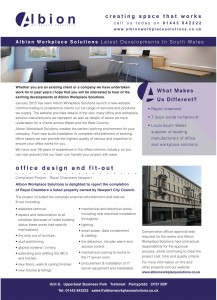 Albion Workplace Solutions based in Treforest near Cardiff, have recently distributed their first email newsletter to over 1000 existing client contacts giving details of their new branding campaign which was created by Stepping Stones Marketing Solutions.
The branding project has seen Albion launch a new website as well as a range of other exciting promotional material giving existing and prospective new clients details of their work and experience across Wales and the West Country.
The email newsletters have proved to be very popular within the property sector in South Wales and the company has now printed a hard copy version for distribution further afield.
To find out more about Albion Workplace Solutions visit their website created by Stepping Stones Marketing Solutions.