Stepping Stones Marketing create dynamic website for Wales' leading music venue.
Since 2016, Stepping Stones Marketing has assisted Acapela Studios, based in Pentyrch just outside Cardiff to develop an exciting business strategy. The music venue is a converted welsh chapel with high ceiling, original wooden floors, pews and pulpit – providing excellent acoustics.
The owners requested Stepping Stones Marketing to create a strategy that would see the music hall and recording studio become Wales' leading independent music venue. In under 18 months the venue has now become the most popular small music venue in Wales with the audience capacity increasing from just over 30% per event to over 70%.
The venue has attracted major international stars including:
Toyah Willcox
Beverley Craven
Judie Tzuke
Fairport Convention
The Christians (3 sell out nights)
Steve Harley (3 sell out nights)
Barbara Dickson (2 sell out nights)
In December 2017, the venue arranged an ambitious Christmas programme the "12 Nights of Christmas" which saw 8 sell out concerts over the month. In 2018, the venue will see this ambition raised further with over 100 concerts, comedy nights and dining experiences all programmed and marketed by Stepping Stones Marketing.
To enable the venue to ensure that all their events are promoted effectively in autumn 2017 Stepping Stones Marketing designed and built the new Acapela Website www.acapela.co.uk
The website provides visitors with facilities to purchase tickets and find information on all performers and has been search engine optimised to ensure that the venue continues to "punch above it's weight".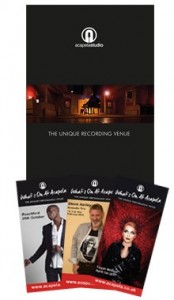 Stepping Stones Marketing provide the following services to Acapela Studios:
Full programming of events
Promotion of events via social media, advertising, email newsletters to database etc
Graphic design
Website design and build and ongoing maintenance and upkeep
Database management
Marketing and business consultancy
If you would like more information on how Stepping Stones Marketing can assist your event venue or business venture please contact us today.