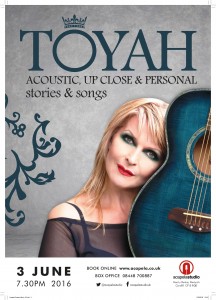 Rock and pop legend Toyah Willcox has performed a sold out show at Acapela Studios to an audience of 200 excited fans.
Toyah was booked by Stepping Stones Marketing as part of their role in supporting the venue in managing the music bookings roster and promoting events.
Both the audience and the singer enjoyed the wonderful setting of Acapela – so much so that Toyah has confirmed she is returning to do another show in 2017.