Always one to enjoy pulling together "best of lists" – how about this as my TOP 5 toy and game memories from my youth: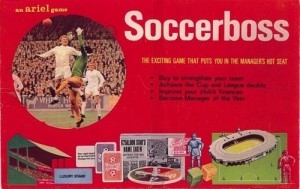 My latest football addition….you could never have too many footballs!
My weekly comic subscription – Shoot! Which included the classic Billy's Boots.
Snooker Table – one Christmas I had two tables ( 6 x 3 ft and a smaller one 3ft x 2ft..both used, when my Dad went to buy them he got the small one for FREE. I found them in the back of my parent's bedroom wardrobe about two weeks before Christmas and couldn't understand why there were two, worrying that I would be left with the smaller one, whilst someone else was getting the big one!)
Soccer Boss – Great football league game, the board game version of PC favourite Football Manager!
Masterpiece –  a game which appeared at my Grandmothers and we would play only on visits to her house at half term!
Looking at the above, it strikes me that perhaps I was easily pleased back then, or things have just changed an awful lot in this computer age!! Let us know your top 5 toy and games memories and we will share with Blog visitors.